Thanks to all who helped to make Perform in Perth's Exhibition Week run so smoothly. Thanks to Guildry Incorporation Of Perth for its financial support. Thanks to the Perform in Perth committee members who staffed the door, welcoming visitors and answering queries; the minister and congregation of St Matthew's Church for lending us their wonderful building; the team at St Matthew's who helped set the church into exhibition mode and then tidied up at the end of the week in time for their Sunday service; the café staff for sustaining us; special thanks to Tom Morrison, Beverly Skene, John Paton and Peter at St Matthew's for all their help; thank you to ALL the musicians who took part in a truly festive week of celebrations.
Speaking to visitors revealed many personal stories and interesting memories along with additional photos. A common thread through the week, from lay people AND musicians was a lack of knowledge about the Festival. People who had lived in this area all their life were unaware of it. Some had memories of the Festival from the days when it was at the City Halls but had not realised that it had continued under the new name 'Perform in Perth'. Hopefully the events of the past week have helped to set the record straight.
It was a great joy to have the series of 16 concerts set amidst the Exhibition. There was a mixture of groups who had taken part in recent Festivals, historic Festivals or none at all. It is a credit to the hard working musicians that they decided to fit into our programme and then fitted in so easily that we were working to 15 minute changeovers by the end of the week. Sad to lose the Aberfeldy Gaelic Choir from our programme – but understandable given the conditions on the road. We look forward to hosting them at an event later in the centenary year.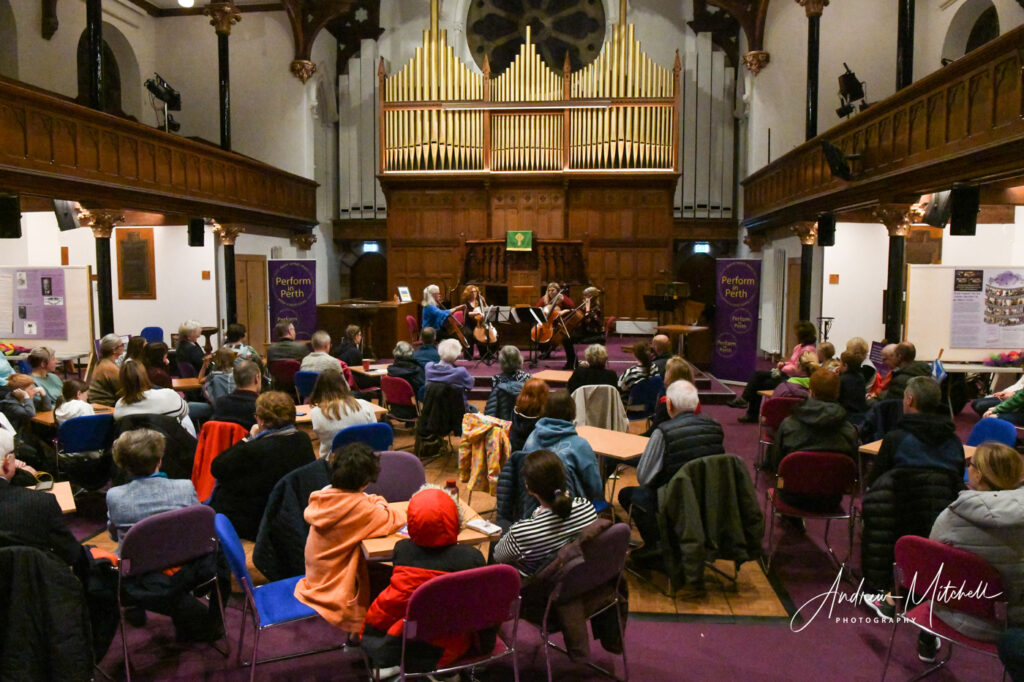 As a prelude to our proceedings, the Four Cellos, Rachel Steele, Ilse McFarlane, Jane Colvin and Susan Smart got us off to great start, with a packed house, making their own debut recital as a quartet. The Piano Trio, Sheila Winship, Stewart McMurdo and Howard Duthie captivated us with a performance of Bruch's Double Concerto at our formal opening reception, setting the perfect tone as did Stewart McMurdo's lunchtime recital of Bach's unaccompanied Cello Suites No.1 and No.2, on viola, later in the week.
Katie Duthie piped in our invited guests beneath St Matthew's magnificent spire, at the Opening Reception, sustaining a family connection with the festival that goes back almost 50 years.
As the week continued, Perth High School, Morrison's Academy and Dollar Academy brought their varied and well-presented programmes. The young musicians were a credit to their schools and we soon learned that our Exhibition was as much to become a celebration of the future as well as the past. An impromtu recital at the organ was given by a young music student from Morrison's Academy. Thanks to all the staff who supported the school children.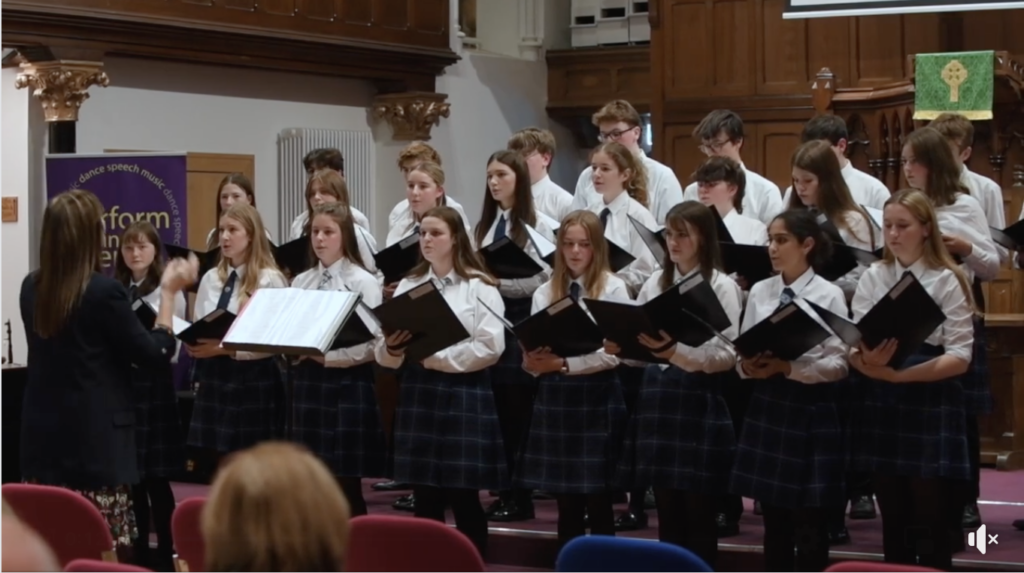 Looking around the Exhibition, Perth Amateur Operatic Society learned how their predecessors had donated trophies to the Festival as well as winning them themselves repeatedly. Their 'Night at the Musicals' showed us how well that tradition has continued.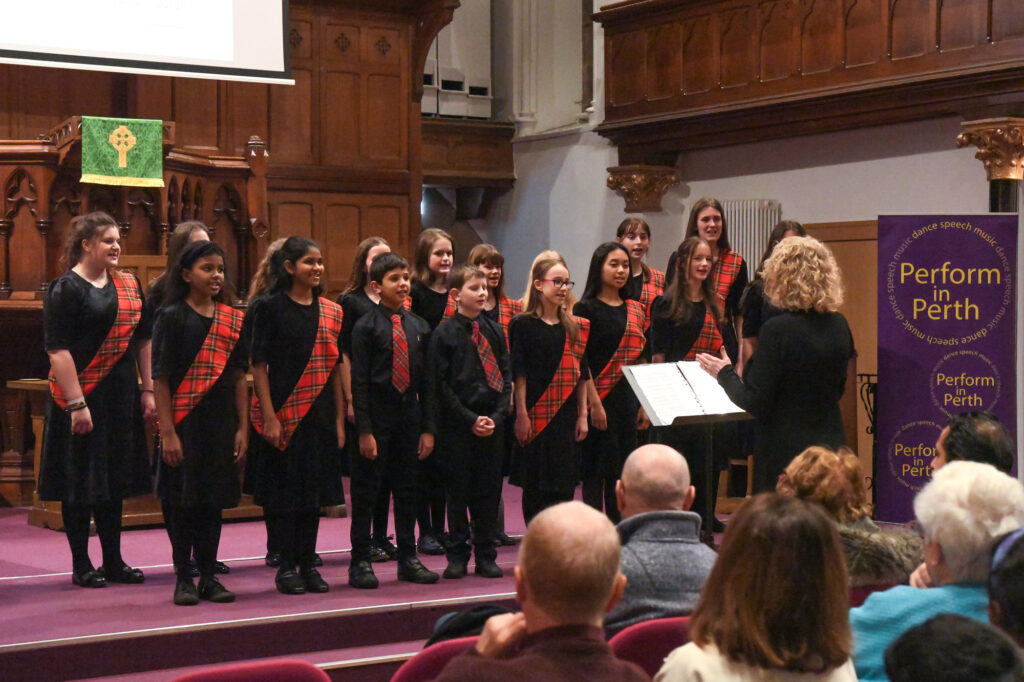 Fair City Singers are also past trophy winners and it was good to hear them again on stage last week. Beautiful choral singing – and lovely solo voices too. Perth's Encore Choir, directed by Colin Murray and the Fife/Stirling/Perth Rock Choir, directed by Rachel Leitch, brought nostalgia and joy that we could sing along to and they were great ambassadors for the power of music.

The talented Perth-based Steele Vocal Quartet, Rachel Steele, Rona McKenzie, Moira Duncan and Kenneth Maciver, blended beautifully with Howard Duthie at the piano.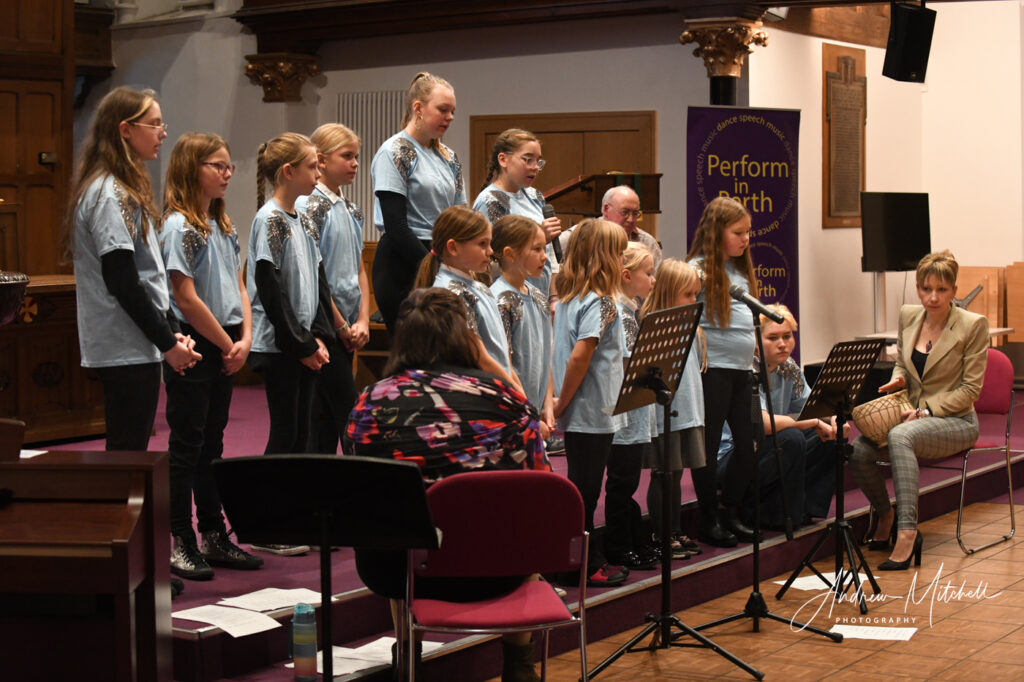 As a Festival for whom Church Choirs have played an important part from its earliest days, it was pleasure to welcome Śpiewające Aniołi – Perth's Singing Angels from St Mary Magdalene's Church, Craigie. Congratulations to them as they mark their own 10th anniversary.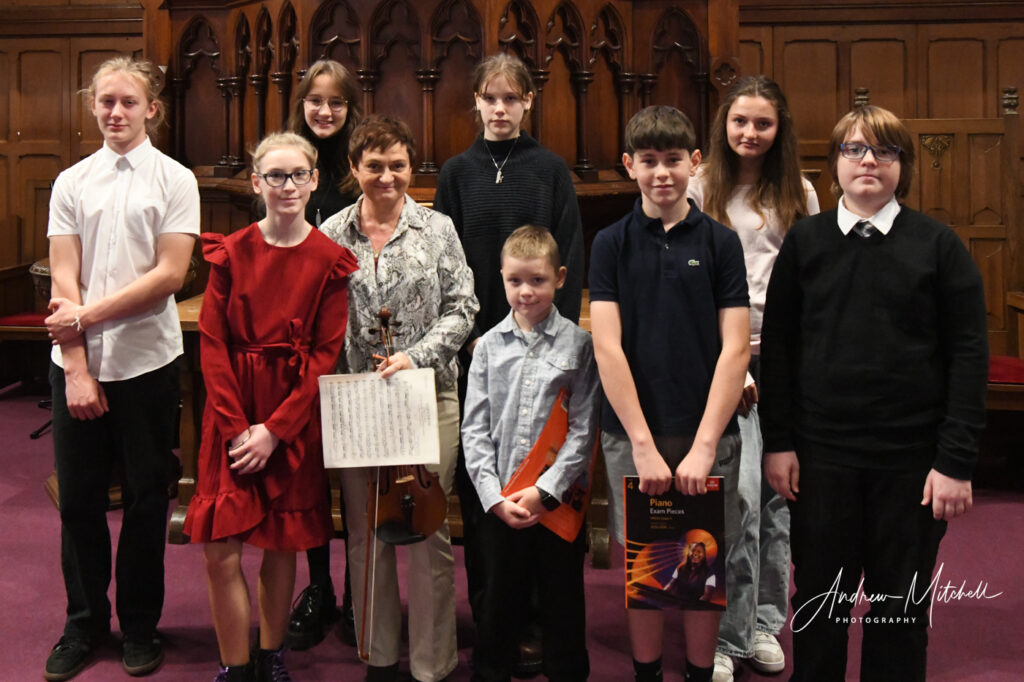 Grazyna Mylnarczch's music students and the String and Wind ensembles from Perth Symphony Orchestra showed us that instrumental music and instruction is thriving. Such an incredible array of talents – truly professional performances.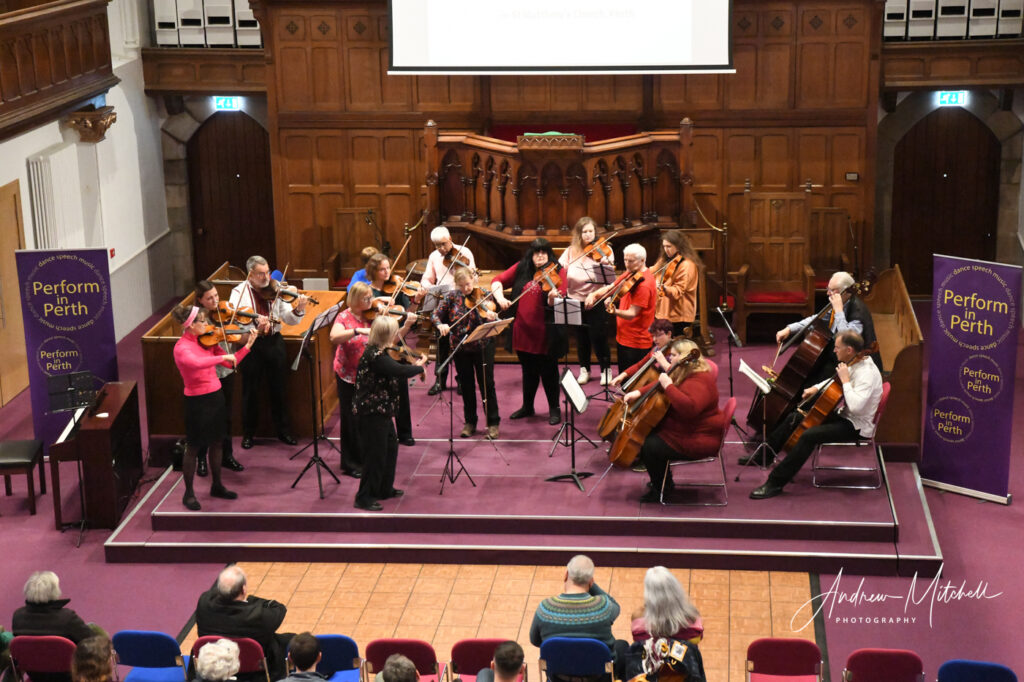 Thanks to Perth Symphony Orchestra String and Wind Ensembles for joining our 100th Festival celebrations – particularly so close to their own 70th birthday concert. It was a delight to hear your playing and to recognise so many of your players as past performers – indeed winners – at our Festival.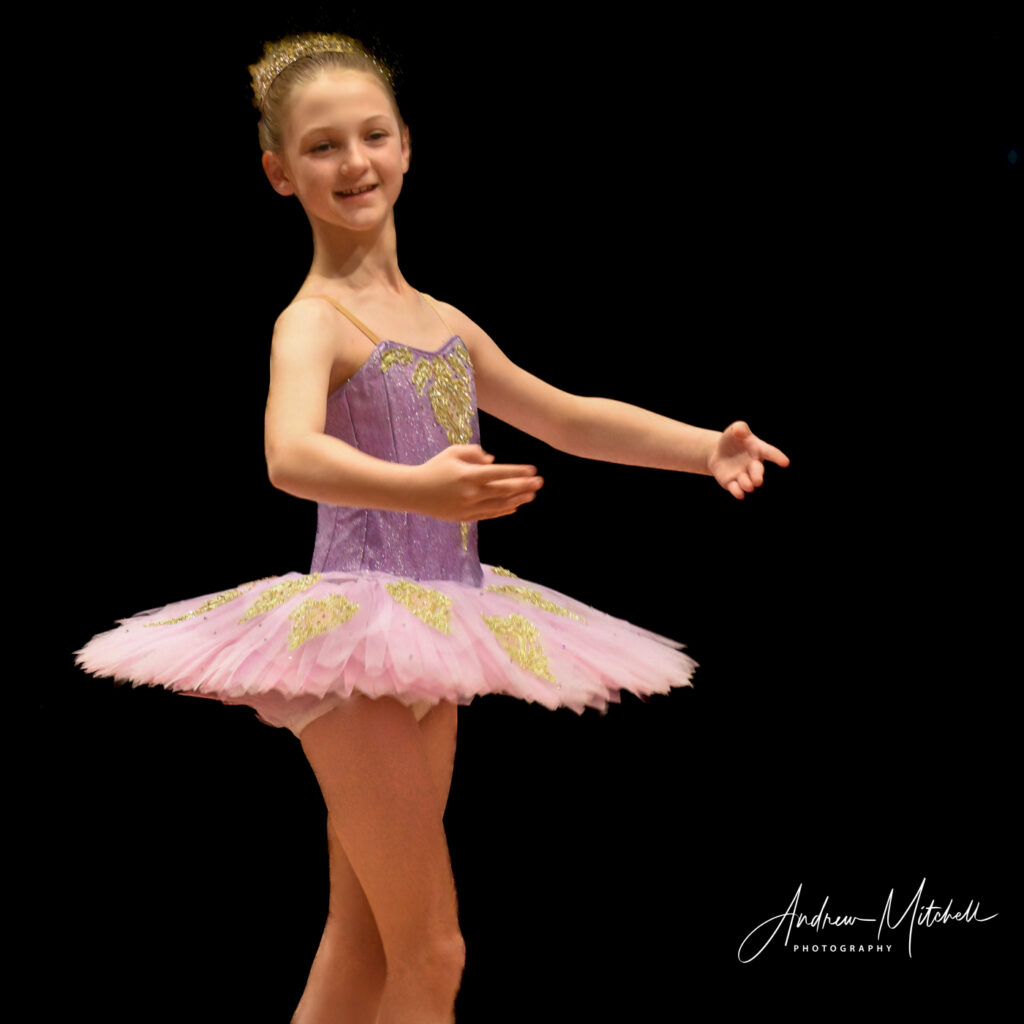 Julie Young's Dancers and Julie Young Singers performed to more packed auditoriums. Many were past trophy or medal winners and again, this gave a great link between the past and present. Julie Young's own teacher, Helen Farquhar, presented the Festival with a Trophy for Competition in Country Dancing and the Julie Young Dancers have endeavoured to have their name on it every year since. From the displays and singing we enjoyed this week – the future is in safe hands.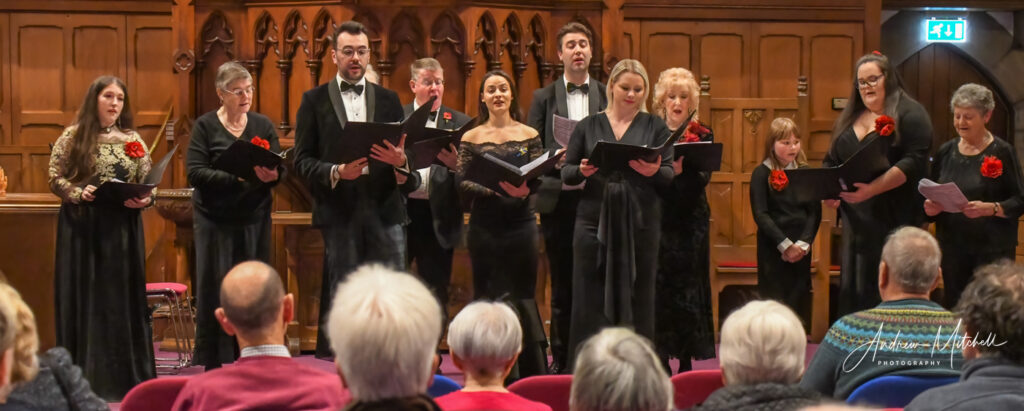 And if all of this wasn't going to be a hard act to follow – Jambouree Singers had the task of topping off the celebrations. One week, sixteen concerts, six of them on Saturday between 10am and 4pm, the finale had to be a good one! Featuring five past medals winners from Perform in Perth, the Perth-based singers were introduced by Alan Laing and directed from the keyboard by Edna Auld.
Their concert drew to a close to the sound of The Holy City, accompanied by the organ, sung by Marilyn Taylor and the whole choir. They did a grand job!
A very personal thank you to everyone who helped to make this event come together.