Entries for the 2024 Festival will open in November 2023
Before you can enter Perform in Perth, online, you will need to have registered with our system. If you prefer to make a paper entry please download this ENTRY FORM. Entries must be created by an adult. If anyone for whom you are creating entries, such as pupils, is under the age of 18, you will need to have their date of birth.
It will help you later if you bookmark the login page on your browser.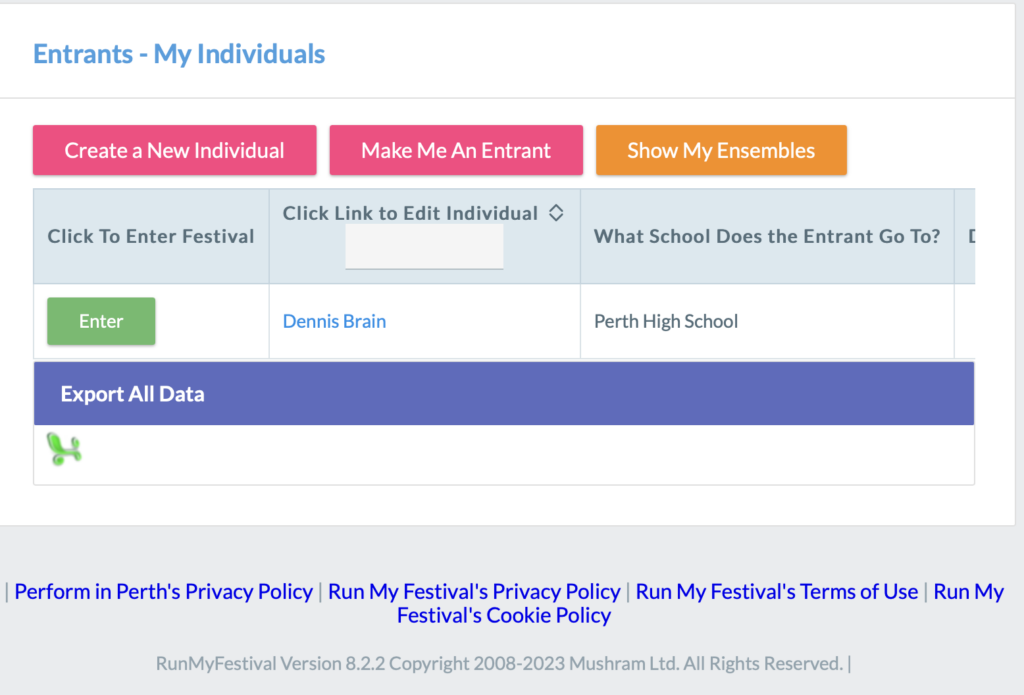 Once you have registered, you need to create Entrants. Click on Entrants, at the top of the screen on that page and select About Entrants. Once you have read these instructions, you can go ahead and click on Entrants and select New. An entrant can be an individual or a group such as a team or an orchestra. For duos/duets/trios, each performer should be an individual entrant (even if they are not performing solo, then you can create a new 'Entrant', selecting 'Group with People' and select their name from the list, to create the duo/trio.
Once you have created as many entrants as you want, you can then enter them in as many classes as you want. To the left of each entrant's name, you will see a green-coloured rectangle. Click on that and, to choose the class, go first to the top of the page and select a section e.g. Solo Brass, Speech or Bands and Orchestras etc., or you can search for a class by number, if you already know the number of the class.
If you are entering pupils from a number of schools, but want that school to be named on the invoice, enter each school in a separate batch. The email will still come to your email, but you will then be able to forward it to the school for payment, or you have the option of including the email of the person who will deal with the invoice. Please remind them to also check their spam for emails.
Once you have created your entries (referred to as Entry Forms), you will be emailed an invoice which you can pay in several ways: PayPal, BACS, PECOS, cheque or cash. Please quote the PIP number on your invoice, when you pay, so that we can tie the payment to your entry.
Follow all on-screen instructions. When asked to enter 'Piece details' in 'Own Choice' classes, the form to be filled in is above the request to supply the details. If you do not know the Own Choice details in time for the closing date, you will still have until 1st February to update these details online. Just enter 'To be advised' or similar, so that the Entry Form is able to be created.
Email digital copies of any Own Choice selections, clearly marked with Class No. and entrant's name, by 2nd February 2024, to the Music Secretary (see page 1), remembering to bring hard copies for the accompanist on the day. If you prefer to send hard copies, check postage charges.
If you don't have internet access and would prefer to submit paper entries, copies of the Entry Form are available in Concorde Music Shop, Scott Street, or on request from the festival.
Please check your spam if you don't see emails from the RunMyFestival system immediately.